This is an old revision of the document!
---
Les micro/nano réalisations au cours GéonInf(ex-OGO) depuis 2007
Arnonbike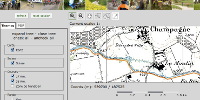 Réalisé par Christophe Chiri, Arnonbike est une application de webmapping permettant de visualiser les tracés VTT de la course Arnonbike (www.arnonbike.ch). L'utilisation d'un fond topographique au 1/25000 permet de repérer précisément les itinéraires, les points de ravitaillement, etc.
student_projects.1428427884.txt.gz · Last modified: 2018/05/16 10:05 (external edit)